Beyond the many free applications to verify hard drives  available for download, there are also a large number of commercial tools for the repair of hard drives, which can provide a great help in determining the correct or incorrect operation of a hard disk .
These programs are not necessarily better in relation to those free applications, but considering the fact that you are paying for them, it is likely that you have greater access to customer support if required. These commercial tools also tend to support a larger number of system files and other truly useful features.
This way, if you have tried to identify problems with the application Error Checking for Windows, or other free applications, without success, you may have arrived at the time to invest some money and try these payment alternatives.
Tip: despite not being a mandatory requirement, it is always recommended to make a backup copy for all those important files stored on the disk, avoiding any type of inconvenience when it comes to recovering your data. There is a huge amount of backup tools that you can install to store data in other disks, or you can safeguard your backup copies in an online backup service.
Note:  Beyond the two applications mentioned in this article, there are not many recommended programs capable of focusing on the repair of hard drives.
SpinRite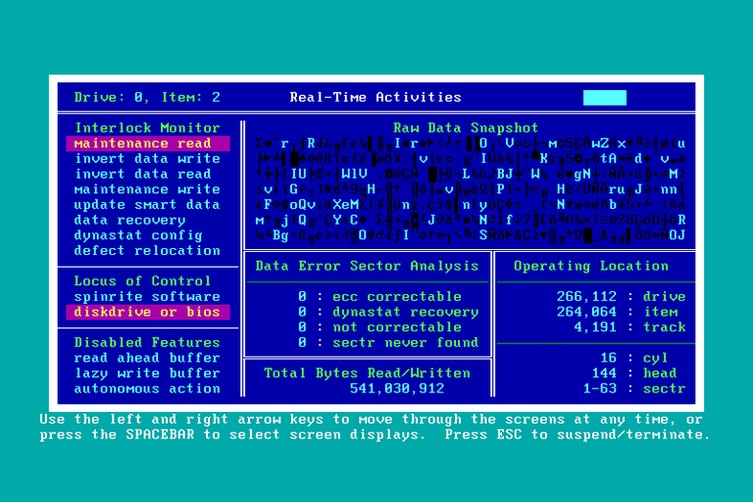 SpinRite is one of the most powerful diagnostic and repair tools for hard drives in the market. It is a program that already has many years of validity and has been acclaimed by many users based on always accurate results.
The operation of SpinRite is based mainly on a series of multiple attempts in search of recovering data in bad sectors , then transferring that data to a safe location, replacing the bad sectors with free sectors, and then rewriting the data to again count with access to them.
There are two operating modes within SpinRite – one for recovery and one for maintenance. The first will end faster and has been designed for emergency situations, while the latter has a more complete character due to its in-depth analysis.
Acquire SpinRite v6.0
SpinRite is compatible with the most recent file systems and hard drives. It is also a tool independent of any operating system – independent since it uses a FreeDOS operating system. Due to its small size, the program can be executed from any bootable medium , such as a CD or flash drive , and can be "exported" to an ISO type file .
SpnRite fulfills its function in an extremely fast way. At its maximum rate, in the best of cases, the program can reach speeds of up to 2 GB / minute. This means that you can read / write 120 GB of data in one hour.
SpinRite is a professional tool and has an agreed price, currently about $ 89 USD . Common users can acquire a copy of the program and use it on any of their personal computers, while those corporate sites must purchase four copies to use SpinRite on client machines.
Tip: If you have an old version of SpinRite, you can, depending on the version, update it for a price that will range between $ 29 USD and $ 69 USD. A user with the oldest version of the program must pay more to update it in relation to those users who are owners of more recent versions.
HDD Regenerator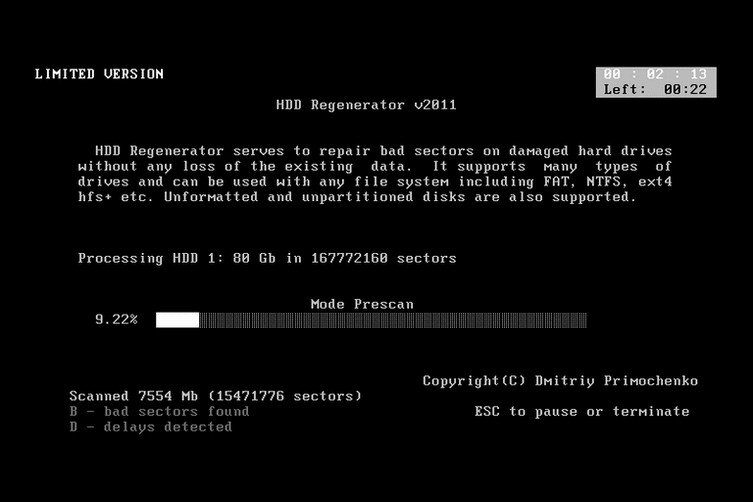 Another commercial alternative when it comes to talking about hard drive repair applications is HDD Regenerator. Just like SpinRite, it is a completely text-based tool, but still extremely simple for every user.
Once downloaded, the software will offer alternatives to burn the program on a USB device (flash drive) or on a disk. The burn process is completely automatic in any of the two options thanks to a tool included in HDD Regenerator.
When starting HDD Regenerator, you must select which hard drive to scan, as well as the type of scan of preference.
There are two scanning options in this program. The first is simply a pre-scan in order to report the identification of compromised zones. To repair these sectors, HDD Regenerator should run in its other mode, called simply normal scanning.
In case of selecting the normal scanning option, you can choose to review and repair the hard drive, scan but only display the compromised sectors without repair, or regenerate all sectors, even those that are in optimal condition. Regardless of the type of scan selected, the user can start the process from sector 0, or select manually the sectors to be verified from start to end.
Once HHD Regenerator has finished, the program will display a list of verified sectors, as well as the number of delays detected, sectors that have not been repaired, and repaired sectors.
Unless you are running HDD Regenerator from a CD or DVD, you can always restart the analysis process in case you have witnessed failures at some time.
Acquire HDD Regenerator v2011
HDD Regenerator is independent of any operating system, hard drive and file system. This means that it is a program that will work regardless of the format of the hard disk – whether it is FAT, NTFS, HFS +, or any other file system, just as regardless of the operating system or the mode in which it has been used. partitioned
Note: although HDD Regenerator has the ability to work in any operating system, the program will demand to be executed first in Windows since this is the only method to create the flash drive or bootable disk.
HDD Regenerator has a current price of $ 99.99 USD, and with it you will get a benefit of lifetime use and one year of free updates. A demo version is also available (go to the download link on the official site), although this version will scan and repair only the first sector that is identified.